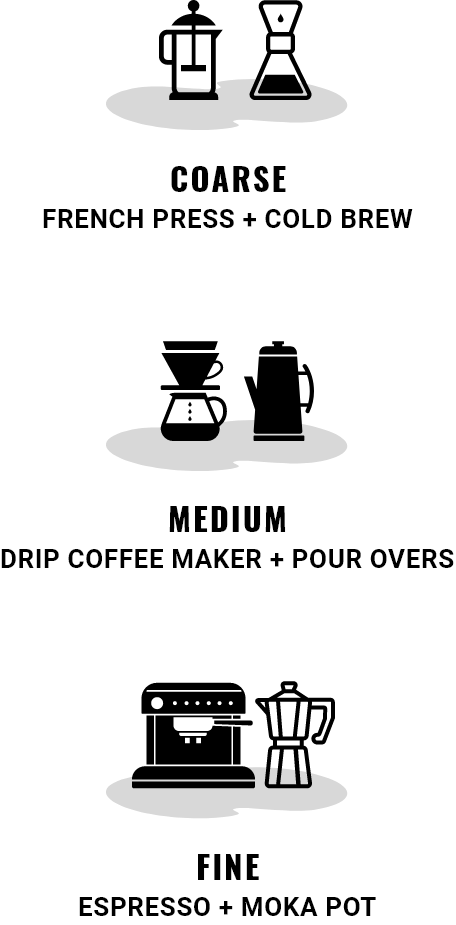 Not sure which grind?
How subscriptions work?
Products are automatically delivered on your schedule. No obligation, modify or cancel your subscription anytime.

FAMILY OWNED

ORGANIC

ECO-FRIENDLY

FAIR TRADE

PRECISION ROASTED

SMALL BATCH
Not sure where to begin with our coffee or looking to try something new? This is the perfect choice. Our Master Roaster will determine which of our blends to send you - one of our premium new, specialty or seasonal blends.
Makes the perfect gift!
Organic & Fair Trade

Roasters Choice For The Win
Left it in their hands to pick me a roast for my next batch of cold brew! Awesome coarse grind and turned out great! Love these folks.
This months Roaster Choice - The Uprising
I just subscribed to the coffee club and The Uprising was my first Roaster Choice. Its going to be hard to beat going forward, though I'm sure Apocalypse is up for the challenge. This brew is one where when temperature finds that sweet spot, the flavors come alive. Not in an explosive earth ending kaboom, but more of a subtle satisfying meld the envelops the taste buds that pulls me back in to consciousness in the morning. Can't wait for next months surprise
Coffee Conoisseurs-THIS IS IT!
While visiting an elderly parent in Melbourne, I decided to stop at Apocalypse Coffee Roasters. What an incredible cup of coffee! It's now been almost three years since that first cup. I've been purchasing Apocalypse Coffee & have it delivered to our home in Colorado. Love the surprise Roaster Choice coffee each time. Keep up the good work!
How you doin
I have ordered coffee twice now. It has been prompt delivery and the coffee tastes great. The ordering process was fairly simple and I liked the ability to auto ship every couple of months.
Thank you for serving organic coffee.
You can never go wrong with Apocalypse!!